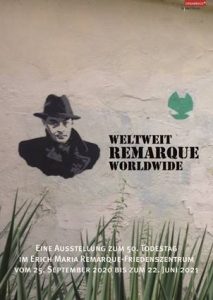 The German writer Erich Maria Remarque («All Quiet On The Western Front») died on 25 September 1970.
Fifty years later the exhibition »Weltweit Worldwide Remarque« opening September 25, 2020, at the Erich MariaRemarque Peace Center in Osnabrück documents the current worldwide presence of Erich Maria Remarque's work in various media since 1998.
In more than 500 exhibits from all continents Remarque, his work and his topics are taken up, discussed and processed. Here you can discover, in which media Remarque currently is adapted.
Find out more here: https://www.remarque.uni-osnabrueck.de/wwr/ausstell/index.htm
Mohrbooks represents world rights in Remarque's work on behalf of New York University.